Jun 14
2018
Mercy Ministry Update – June
Mercy Update | by Pastor Justin Keogh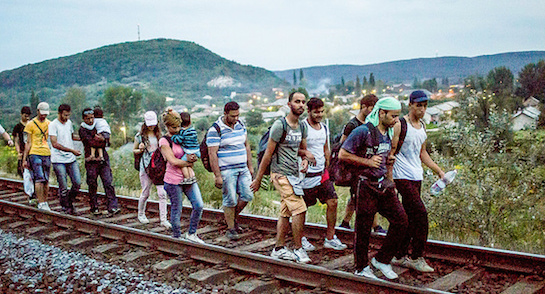 The Bible contains numerous exhortations for God's people to care for the sojourner and the alien (Deut 10:17-19, Jer 22:3). And even as we read these passages, we know that we were once ourselves alienated from God by our sin. In 1 Peter, Peter uses this language of "sojourners and exiles" to call our attention to the fact that our home is not of this world, but with God in heaven. He then speaks to our new corporate identity, saying "But you are a chosen race, a royal priesthood, a holy nation, a people for his own possession, that you may proclaim the excellencies of him who called you out of darkness into his marvelous light. Once you were not a people, but now you are God's people; once you had not received mercy, but now you have received mercy" (1 Pet 2:9-10). And it is from this mercy that we have received from God that we also extend mercy to others, including the sojourner and alien in our midst.
Mercy Focus Highlight: Refugees
As recently as 2015, Washington was the eighth largest refugee-receiving state! Over the years, we've had a number of our members working with organizations like World Relief to serve refugees here in Seattle. World Relief is an international ministry that focuses on disaster response, health and child development, refugee and immigration services, economic development, and peace-building. If you are interested in some ways you can continue to learn and get involved alongside others in our church, please join the Mercy Focus: Refugee group on the City, which will be a go-to place for information and upcoming events!
June 20th is World Refugee Day. This is a day intended to honor the strength, courage, and perseverance of millions of refugees, show support for those who have had to flee their homes, and raise awareness of the situation of refugees around the world. There are a number of special events coming up this month hosted by World Relief and other organizations in the area. Please check the list of upcoming events below to learn more about those, as well as events related to other mercy ministry focus areas!
Upcoming Events:
June 16 – Caregiver's Evening Out (DCC Building)
June 16 – Stand with Refugees (Seattle)
June 19 – Refugee Community Garden Work Day (Kent)
June 20 – ARTvocavy: World Refugee Day (Seattle)
June 24 – Worship Service @ King County Juvenile Detention Center (Seattle)
June 28 – Swing for Life Golf Tournament (Kent)
June 30 – World Relief Golf Tournament (West Seattle)
To learn more or get connected, email mercy@downtowncornerstone.org
Partner Prayer Requests:
Refugees
Pray for increased awareness, compassion, and advocacy for refugees through the upcoming events hosted by World Relief and other refugee focused groups on World Refugee Day.
Orphan Care
Caregiver's Evening Out event on 6/16 – Pray that this event would be a blessing to caregivers and parents, and that God's love would be made evident in our service to them.
Sex Trafficking & REST
Due to recent legislation, the number of clients seeking aid from REST doubled in the month of April. Pray for the safety of those involved in the sex trade, for lives to be transformed by God's grace, and for REST to have the resources and ability to support the increase in demand.
Homelessness & UGM
A recent count indicates that the homeless population in Seattle has increased to over 12,000 individuals. Please pray for the safety of those facing homelessness and for the efforts of organizations and ministries like UGM who serve those in need, and that God would use them to bring people to him.
Juvenile Detention
Pray that through the upcoming worship service on 6/24 kids in detention would hear and respond to the gospel.
Life & CareNet
Continued prayers for the mobile unit, that CareNet continues to make progress in the communities they are currently serving (Eastside, Burien, Rainier Valley). Pray that the women who need their services seek them out and use their services, and that they'd choose life and get support they need.