Winter 2019 Classes
Registration for Winter 2019 Classes is now open. Click on the course title to sign up. 
This winter, we are offering six classes over a ten-week period. Our midweek classes will begin on Wednesday, January 9th. Our Foundations class will begin on Sunday, January 13th. Most classes will meet for one hour over five weeks and will be taught either by pastors, staff, or other leaders. The purpose of offering classes is not to create big heads, but big hearts. However, the way to our hearts is through our heads (Rom. 12:2). Spirit-filled thinking about God results in Spirit-filled feeling for God. After all, to "taste and see that the Lord is good" (Ps. 34:8) we must know who this Lord is and exactly why he is good. 
If you are new with DCC, we would encourage you to start with the Foundations Class. This class is meant to be the first stop for folks seeking to dive in and learn about the nuts and bolts of our church, join a Cornerstone Community, be baptized, and become a member. By the end of it, you'll have clear next steps for how to grow and get further connected.
Our winter class offerings will be: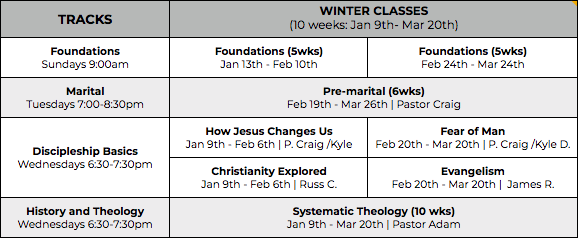 FOUNDATIONS
DCC Foundations | Sundays @ 9:00AM | Begins January 13
Instructors: DCC Elders
Our Foundations class is the first stop for folks seeking to learn more about DCC, join a Cornerstone Community, be baptized, and become a member. This 5-week class walks through what we believe (doctrine), why its important to belong (membership), who we are (vision, mission, and values), why we are here (context), and how we function (leadership, ministries, partners, and finances). By the end, you'll have clear next steps for how to grow and get further connected. ***This class is required for membership with DCC.*** Register here.
HISTORY AND THEOLOGY
Systematic Theology | Wednesdays @ 6:30 PM | Begins January 9th
Instructor: Pastor Adam Sinnett
Have you ever wondered how the study of God impacts how you live? This ten-week class will help you connect theology to your everyday life and walk through some of the most important doctrines that every Christian should know. We'll explore doctrines of the Word, the existence and attributes of God, creation, sin, the person and work of Christ, and much more… Register here. 
DISCIPLESHIP BASICS
How Jesus Changes Us | Wednesdays @ 6:30 PM | Begins January 9th
Instructors: Pastor Craig and Kyle Dunn
Every honest Christian knows the need for change. But how do you move forward from struggles both big and small? And how does your faith in God impact your everyday thoughts, feelings, and actions? This five-week class will give you an opportunity to reflect on one specific area in your life and learn more about how God changes you to become more like Jesus. Topics include understanding how you typically respond to trouble, how the cross of Christ brings comfort, help, and change, and how you can grow to be like Christ in the hardest circumstances. Register here.
Christianity Explored | Wednesdays @ 6:30 PM | Begins January 9th
Instructor: Russ Collins
Have you ever considered why you are here and what life is all about? Whether you are a skeptic who is exploring the claims of Christianity, or you want to learn how you can better explain your faith to others, this five-week class will walk through the claims and life of Jesus and what it means to be a Christian. Register here.
Evangelism | Wednesdays @ 6:30 PM | Begins February 20th
Instructor: James Rayment
In Matthew 28:18-20, Jesus gave us the great commission. They were instructions for how we are to spend the rest of our lives; namely, to proclaim the gospel of Jesus Christ. But how do we do that and what are some helpful tools that we can use to better share the good news of the Gospel with our friends, neighbors, and co-workers? In this five-week class, you'll become better equipped and encouraged with practical resources to be a disciple-maker in the spheres of influence God has put you in. Register here.
Fear of Man | Wednesdays @ 6:30 PM | Begins February 20th
Instructor: Pastor Craig and Kyle Dunn
Are you overly concerned about what others think of you? Fear of man can extend to every facet of our lives and every level of interaction with other people. In this five-week class, we'll look at the ways in which our hearts idolize people above God and how a big view of God and his glory, helps us reorder our "fears," and gives us a right view of other people. Register here.
BIBLICAL CARE
Pre-marital | Tuesdays @ 7:00 PM | Begins Feb 19th
Instructors: Pastor Craig & Kathy Sturm
The pre-marital class is a six-week study on biblical marriage designed to help you gain clarity on theology, your relationship, and relational skills. The course is open to engaged couples who want to build a solid gospel foundation for their marriage. The class is required if you wish to have a DCC pastor officiate your wedding. Register here.
---
FAQ
Q: When exactly will the midweek classes be offered? 
Most midweek classes will begin on Wednesday, January 9th (be sure to check for your particular class). The building doors will open at 6:00pm. Classes will begin at 6:30pm and end by 7:30-8:00pm.  
Q: Where should I begin if I am brand new? 
Welcome! We encourage you to to jump into the Foundations class this winter. 
Q: Do I need to take "Foundations" before taking other classes? 
That would be our recommendation. Foundations is a soft-pre-requisite. Will we stop you from taking other classes? Of course not. But, we want you to know more about us as a church before digging in too deep, so Foundations makes the most sense as your first stop. 
Q: Will the classes require homework? 
Outside of the Dynamics of Biblical Change class, there will be no homework required in order to eliminate any potential barrier to participation. However, most classes will offer some form of optional reading and/or writing to process what you are learning.
Q: Can I still sign-up if I know I will miss a class or two? 
Yes, please do. While we encourage you to prioritize your schedule around the class you take, in order to maximize your learning, we understand there will be conflicts. Please register and join as you are able. 
Q: Can I jump into a class if I don't register? 
If you plan on taking a class, we highly encourage you to register. But, if you were not able to register, do not let that stop you from participating. Join the next class and let the instructor know. (There are exceptions to this, such as the Dynamics course which requires advanced registration.)
Q: Should I participate in a community or take a class?
Our answer to that would depend on your particular situation. Are you new? Join Foundations. Have you been on the fringes and are now looking to get more involved? Again, Foundations is for you. Are you involved in a community yet desire to take a class? Our first recommendation would be to do both if your schedule permits (after all, most classes are only five weeks). But, if you can only do one, and really desire to take a particular class, then feel free to take a temporary hiatus from community. Or, your community may decide to take a class together. There are lots of options. 
Q: Will Kids ministry be offered for midweek classes? 
Initially, there will be no Kids ministry offered on Wednesday nights. This will allow us to leverage the Kids space for classes. However, our hope is to eventually offer Kids. If you would be interested in helping to lead, or be part of, that endeavor please let us know. 
Q: So, what should I do with my kids if I'd like to take a class?
There are a number of options: 1) You could bring your kids to a class, 2) One parent could take a class while the other stays at home with the kids, 3) You could make sitter arrangements or swap with another family, etc. You could also pray that we'd get a bigger building, along with a robust Kids volunteer team to staff midweek!