Finances are not only important to the health of our church and the spread of the gospel, but they are a vital component of our worship of God. Jesus tells us in Matthew 6, that where our treasure is, there will our heart be also. As a church, we talk about money, not because we care about money per se, but we care about what our money points to and reveals about what is going on in our hearts. Therefore, it's our prayer that we'd be putting our treasure where we want our hearts to go, and finding our ultimate hope in Jesus (Matt. 6:19-21).
Last update: June 9th, 2022
2021-22 FISCAL YEAR TO DATE
Our fiscal year runs from July to June, which means we are a few weeks away from closing out our fiscal year.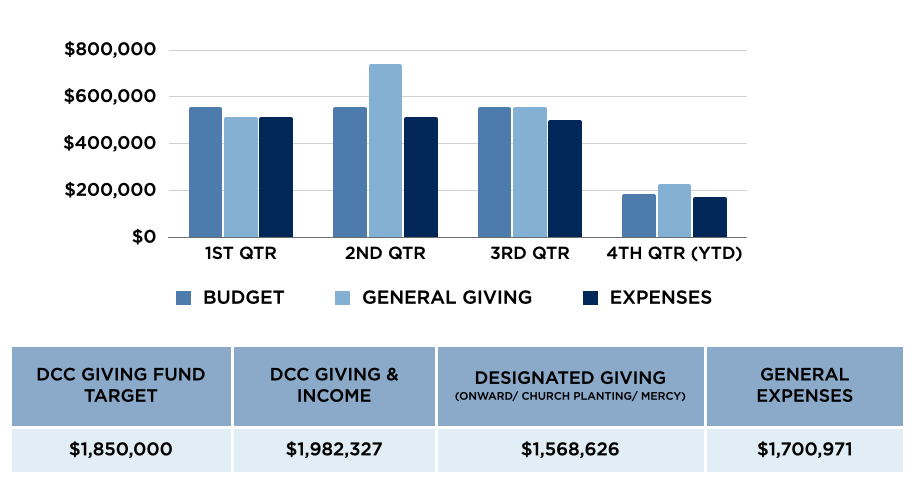 *Our fiscal year runs from July to June
As you can see from the chart above, the Lord has continued to provide for our every need. We've not only been able to cover our expenses as a church this year, but an additional $1.5+ million dollars has been given towards our new building, which is another HUGE evidence of God's grace!
Thank you to those of you who have been giving regularly, sacrificially, and cheerfully as part of your regular worship of Jesus!
As we mentioned in November, we're setting aside all giving that comes in—above and beyond our budgeted expenses—towards our Onward campaign. This means we've been able to earmark at least another $150,000 from our DCC Fund Giving towards Onward so far this fiscal year, and we are praying we'd be able to finish out our fiscal year strong.
THE ONWARD CAMPAIGN
We are praising the Lord for his provision and the ways you all have given faithfully towards our Onward campaign! Fiscal year-to-date, another $1,550,000 has been pledged, set aside, or given towards the renovation of our new home.

Although the project costs have increased substantially over the last couple of years as a result of the pandemic and inflation, we are getting close to being 90% of the way towards our goal of raising three and a half million dollars!
To get up to speed on where the project currently stands, watch this pastoral update from June 5th, 2022.


By God's grace, we now have a construction permit(!), though there are still many details that need to come together before we can start construction. Would you continue praying that the Lord would go before us in getting this project on budget and completed as soon as possible?
Give
If you are looking to give to our new building, please continue giving to the main DCC Giving fund, as all dollars given to that fund (above and beyond our budgeted expenses) will go towards our new space.
Pledge
If you are looking to make a pledge to give to the new building that can be fulfilled over the next year or two, you can do that here. Every dollar pledged, means one less dollar that we need to borrow or more ministry spaces we are able to build out.
MISSIONS & CHURCH PLANTING
Many of you know that as a church we want to put Jesus first in our giving so that we might see his glory spread, and see more churches planted. In light of this, we set aside at least 10% of our budget towards church-planting efforts. So far this year, we have given away and set aside over $182,000 towards those efforts. Let's keep praying that Jesus would raise up more men and women that want to boldly live and proclaim the gospel and that we'd get to see more churches planted in Seattle and around the world!
Here are the current church planting efforts we are supporting: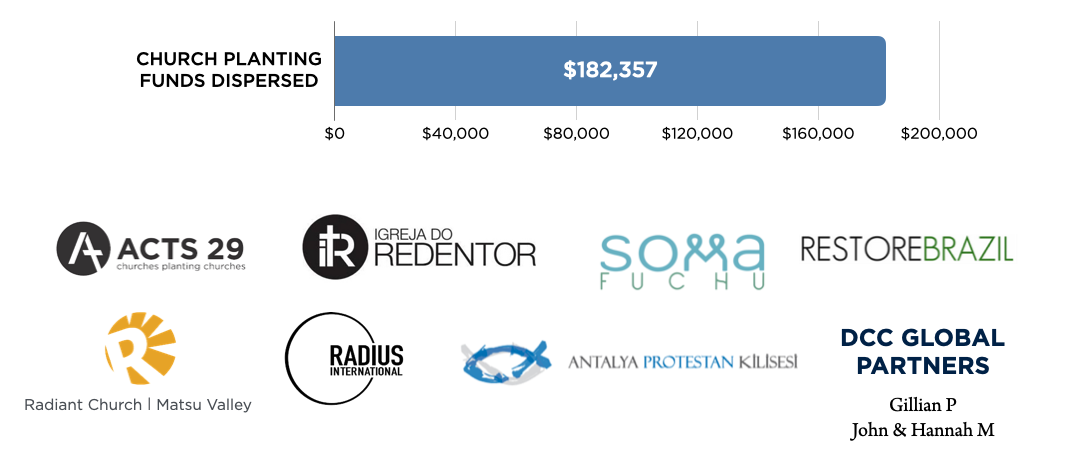 WORSHIPFUL GIVING
God tells us through the Apostle Paul in 2 Corinthians 9:7, that "each one must give as he has decided in his heart, not reluctantly or under compulsion, for God loves a cheerful giver."
DCC, let's remember that we don't give to the budget or give to Jesus out of guilt or because he needs anything, but we give to him, out of our first fruits, as an act of worship, because he's given us everything we have!
PARTNER WITH US
If you have yet to enter into the joy of giving and are wondering how to begin giving to our church, you can do so in the following ways:
Thank you, DCC, for giving regularly, sacrificially, and cheerfully! As elders, we are deeply encouraged by how God is continuing to grow and mature us as a church. So, as we get ready to head into the next fiscal year, let's keep faithfully worshiping him with all that he has entrusted to us!
Note: If you are a part of our church and are struggling financially in this season, please don't hesitate to reach out by emailing .
For the King,
Pastor David
Executive Pastor
**As church leaders, we take the financial management of all that God has entrusted to us seriously. This is why we have an external accounting firm that does our books, yearly financial reviews and audits done by an independent CPA firm, and a financial accountability team that helps ensure we're being wise stewards of all that Jesus has given to us. If you have any questions, please don't hesitate to let us know.**