"I am the resurrection and the life. Whoever believes in me, though he die, yet he shall live, and everyone who lives and believes in me shall never die. Do you believe this?"
– Jesus (John 11:25-26)
Who was Jesus? Why is his death and resurrection 2,000 years ago still giving new life around the world today? Join us on Good Friday & Easter as we remember and celebrate his sinless life, substitutionary death, triumphant resurrection, and victory over sin!
Our gatherings are open to all—whether you are a member, non-member, visiting Seattle, or a skeptic exploring the claims of Jesus—you are welcome to join us!
Good Friday
Friday, April 7th, 2023 at 6:30 pm
On Good Friday we'll gather to reflect on the night Jesus Christ was betrayed, unlawfully tried, crucified and buried, in our place, for the forgiveness of sin.
Easter Sunday
Sunday, April 9th, 2023 at 10 am
On Easter Sunday we'll celebrate Jesus' resurrection and his defeat of Satan, sin and death through vibrant worship and practical teaching.
Join Us
Downtown Cornerstone Church
2333 Western Ave Seattle, WA 98121
Cornerstone Kids. CKids will be provided for Good Friday gathering (Nursery, 1-2's and Preschool only) and for Easter Sunday gathering (1-2's and Preschool only).
Parking. Parking validation will be provided for everyone parking in the Bell Harbor Parking Garage (located at 2323 Elliott Avenue); please bring your ticket with you so we can validate it in the Commons. Families and first-time visitors may park at no cost in the lot located next to 2333 Western Ave.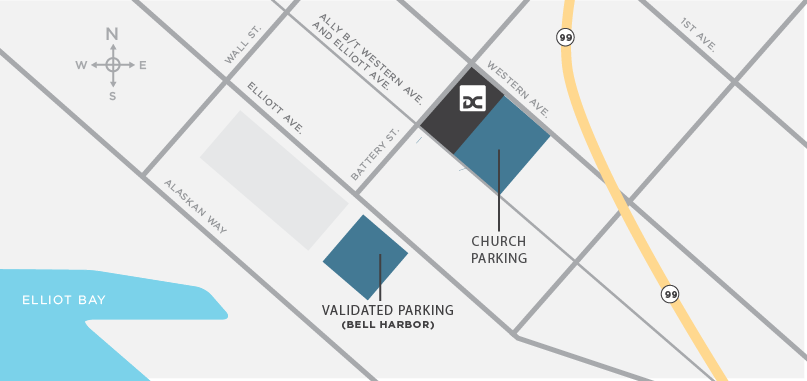 For more information about our Sunday Gatherings, click here or email .