A New Gospel Outpost
Since our earliest days as a church, we have prayed for an opportunity to purchase a permanent building downtown that would serve as a gospel outpost for generations to come. A permanent building in which we could worship God, proclaim the gospel, make disciples, train leaders, build meaningful relationships, plant churches, and love our city to life.
By God's grace, we have found and purchased that building, and are currently in the process of renovating it as our new home!
This building is located in the heart of Belltown on the corner of 1st and Broad (2816 1st Ave), in the shadow of the Space Needle. We hope to move in the winter of 2024.
Therefore, this page was created to share more about this unbelievable opportunity and invite you to partner with us through the Onward campaign to see this building renovated for generations of gospel ministry. May our good and gracious God use this space as an outpost for His unfolding story in our beloved city and beyond.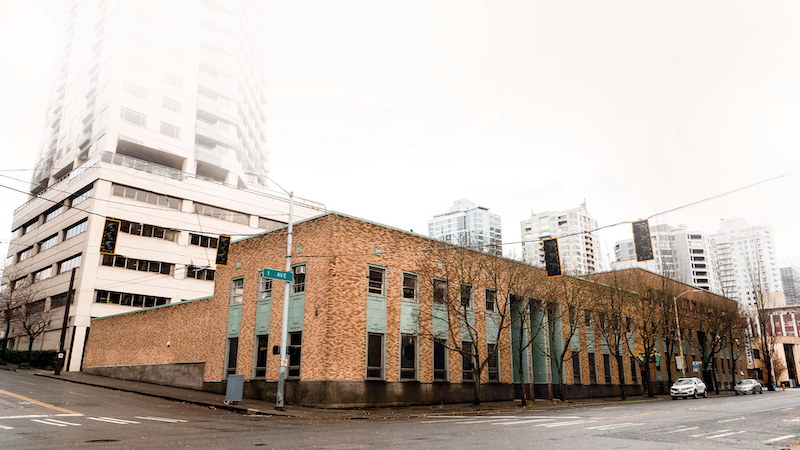 A Place to Worship
Once renovated, our building will feature a large sanctuary (700+ seats) so we can gather as one united church family. In these divided times, corporate worship is a witness to the power of the gospel to the watching world. Corporate worship is the heartbeat of our life together as Jesus' people. The sanctuary will have a permanent baptismal, pulpit, and be specifically designed to facilitate congregational worship.
A Place to Proclaim
Our new building will be filled with faithful gospel proclamation. This building will allow us to create a permanent presence in our city where we can pass along the life-changing, soul-thrilling gospel to the next generation. Our city desperately needs to hear of God's love, forgiveness, and hope that is found in Jesus. Lord willing, this outpost will become a beacon of that hope and radiate out into our neighborhoods and among the nations.
A Place to Make Disciples
At the heart of Jesus' great commission is the call to make disciples. Therefore, our renovations are being designed with equipping, training, and growth in mind, from classrooms to counseling spaces, from Cornerstone Kids to Youth, from the seating in the foyer to design of the bookstore. We are designing this building to facilitate the building of disciples. This space will also enable us to continue to grow as a regional hub for workshops, conferences, and training for the spread of the gospel throughout the Northwest.
A Place to Connect
The church is ultimately a people, not a place. But, a place helps us become a people. This building will have an expanded lobby, a generous coffee bar, ample seating, and space to allow for unhurried conversations. No longer will we have a bottle-necked single point of entry, but an official grand entryway. Our hope is to create a hospitable space that facilitates relationships and interpersonal discipleship as we enjoy our God together.
A Place to Serve
We not only want to be known for proclaiming good news, we want to be good news. Those who have been changed by the gospel inevitably bring about gospel change wherever they are. So, we are committed to building a great city, not just a great church, through justice, mercy, and partnership. Having a permanent facility expands our ability to do that in ways big and small.
A Place to Send
We believe the local church is God's primary mission strategy for spreading the gospel of Jesus. Therefore, we aim to see many gospel-centered, Jesus-loving, Bible-believing churches planted by equipping and sending brothers and sisters in Christ around the world. This building furthers our ability to provide ongoing training and development for interns, church planters, and missionaries-in-development.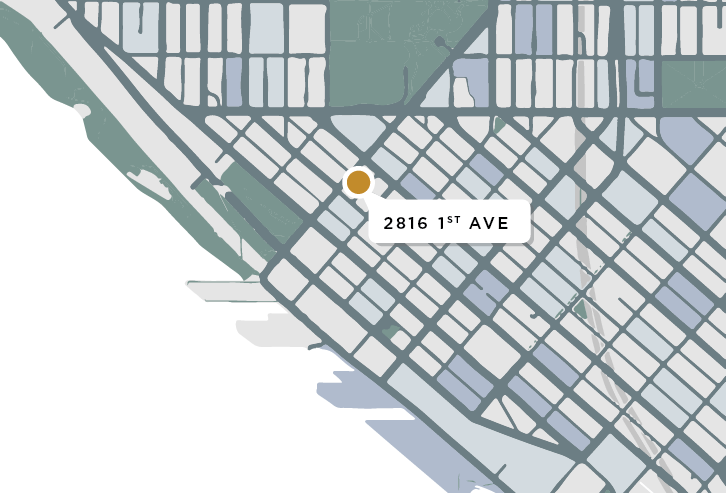 HOW TO PARTNER WITH US
For the Onward Spread of the Gospel
Buying and renovating a building in downtown Seattle is, to put it simply, expensive. By God's grace, we did not start at $0.
Through years of faithful giving of DCC members, and supporters, we saved nearly $5 million to be in a position to purchase the building. Following the purchase, we've been able to raise an additional $3.5 million dollars as part of our Onward campaign to prepare this building as our new home for generations of gospel ministry.
While we believe the Lord is going before us in this unique opportunity, we are continuing to ask that he will provide for our every need to bring it to completion.
Will you prayerfully consider partnering with us for the onward spread of the gospel?*
*All dollars given above and beyond our general budget will go towards the Onward campaign to see this building completed.
Give
You can make a donation via mail, during our Sunday gatherings, or online. Additionally, there are multiple ways you can give non-cash assets (stocks, mutual funds, annuities, etc.) in a taxable investment portfolio to maximize your contribution and minimize your tax burden.
Pledge
We know that above and beyond financial giving can take careful and prayerful planning, so a pledge is a simple way of expressing a future commitment to give to this project over a period of time. Whether that be weekly, monthly, or quarterly gifts over a year, a pledge is a tool that helps the elders continue planning through each phase of this project wisely. If you are not in a position to give directly to the Onward campaign today, prayerfully consider how the Lord might be inviting you to pledge future contributions.
Pray
Pray for this new space. Ask God to use it to serve His glorious mission to make Jesus known in Seattle and beyond. Pray for our architects and contractors as they design and begin construction. Pray that we'd have favor with the city through the permitting process. Pray that we would raise the capital needed for the renovations while being good stewards of the resources God has entrusted to us.
For more information about the building or the Onward campaign, please e-mail .
Above and Beyond Giving
"All the men and women, the people of Israel, whose heart moved them to bring anything for the work that the Lord had commanded by Moses to be done brought it as a freewill offering to the Lord." – Exodus 35:29
Throughout the scriptures, the Lord often instructs his people to give "above and beyond" their normal tithes and offerings to provide for the poor among them, celebrate the Lord's provision, and help further establish places where his people could worship him (such as the tabernacle or temple). Thousand of years later, God continues to use the joyful and sacrificial giving of his people to accomplish his purposes.
One of the unique challenges of a building project is that our normal everyday expenses as a church continue (building lease, operations, technology, staffing, discipleship materials, church planting, benevolence, etc.) even as we seek to raise additional resources for our future home. Therefore, as you consider partnering with us in the Onward campaign, we encourage you to think of your contributions as "above and beyond" your normal giving.
Brothers and sisters, we're in this together. May our gracious God use our collective generosity and sacrifice to prepare this building for generations of faithful ministry and the onward spread of the gospel! Soli deo gloria.
Prospectus
Our online prospectus shares more of the story behind this building and how you can participate through the Onward campaign as we seek to establish a new outpost for God's unfolding story in our city.
If you'd like to receive a hard copy of our full prospectus via mail, please let us know by filling out a simple form here.