REFUGEES
A refugee is someone who has fled their home country, crossing an international boarding, based on a well-founded fear of persecution. Over the years, we've had a number of our members working with organizations like World Relief to serve refugees here in Seattle. World Relief is an international ministry that focuses on disaster response, health and child development, refugee and immigration services, economic development, and peacebuilding.
GOD'S CONCERN FOR THE REFUGEE
And now, Israel, what does the LORD your God require of you, but to fear the LORD your God, to walk in all his ways, to love him, to serve the LORD your God with all your heart and with all your soul, and to keep the commandments and statutes of the LORD, which I am commanding you today for your good? … For the LORD your God is God of gods and Lord of lords, the great, the mighty, and the awesome God, who is not partial and takes no bribe. He executes justice for the fatherless and the widow, and loves the sojourner, giving him food and clothing. Love the sojourner, therefore, for you were sojourners in the land of Egypt. (Deuteronomy 10:12-13, 17-19)
God's care for his image bearers is seen clearly in his Law. It is not simply a matter of duty or an arbitrary set of rules, but rather this care is rooted firmly in God's own character and our identity as God's people. It was because Israel had been loved and rescued from their slavery in Egpyt that they were to care for the sojourner in their midst, and it is because we have been loved and rescued from our slavery to sin that we do the same (cf. Romans 6).
OUR PARTNER: WORLD RELIEF SEATTLE
We've partnered with World Relief Seattle to serve our refugee, asylee, and immigrant neighbors. World Relief is one of the few resettlement agencies serving King County and serves in a holistic way to welcome and connect those being resettled with the local church. They provide welcome services (e.g. aid in housing, language training), youth services (e.g. summer camps), Immigration and Legal services (e.g. citizenship applications), economic empowerment (e.g. job training), and spiritual empowerment (e.g. Detention center ministry). Thousands of people have come to Christ through their Detention Center Ministry in Tacoma with people seeking asylum!
REFUGEES AT A GLANCE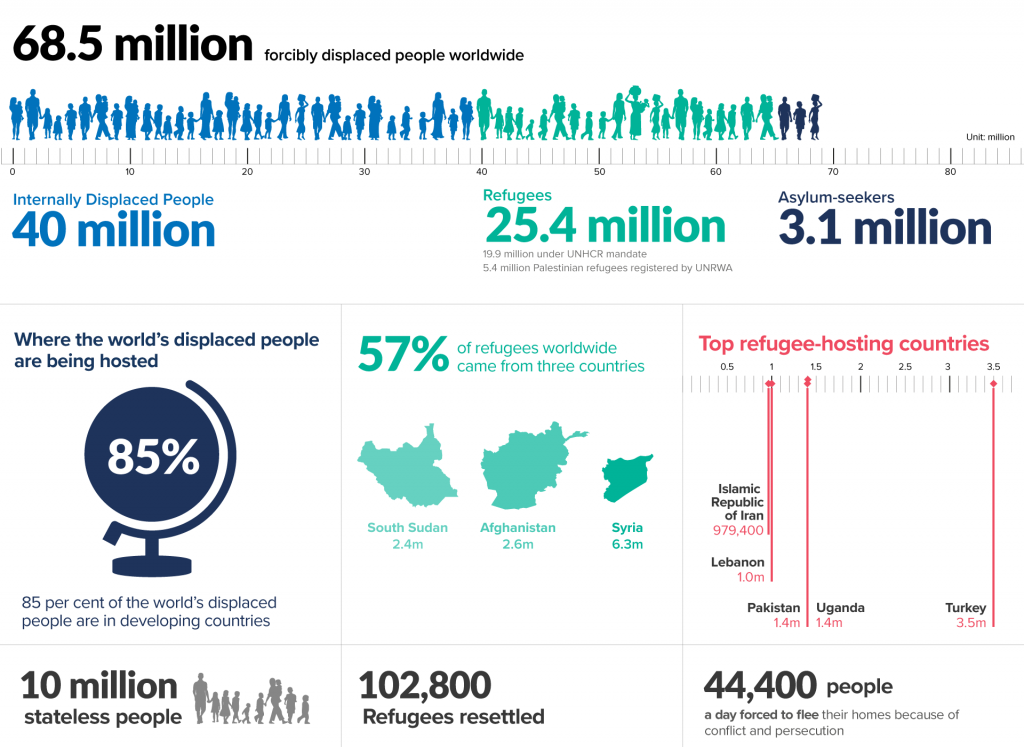 Source: UNHCR
Learn More
If you are interested in some ways you can continue to learn and get involved alongside others in our church, join our Mercy Focus: Refugees group on Church Center! Email us at if you have any questions.