Mar 26
2012
Easter: Bring Someone!
Uncategorized | by Pastor Adam Sinnett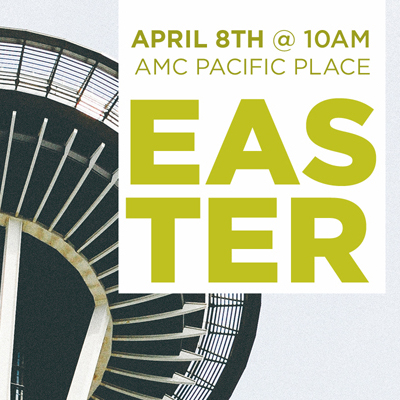 Easter is one Sunday, even in Seattle, where it is culturally permissible for everyone and anyone to join a church for worship. With the exception of Christmas, there is no other Sunday like it. Let's not miss this opportunity but leverage it for the spread of the gospel, the good of our city and the glory of God.
We have 235 seats in our theater at AMC. Let's fill each one of them. Our dream is for everyone in this great city to hear the gospel of Jesus Christ and have an opportunity to respond to his grace-filled, live-giving, soul-satisfying, sin-forgiving news. The gospel of Jesus Christ is for all people, everywhere, including Seattle:
"Clap your hands, all peoples! Shout to God with loud songs of joy!" Ps 47:1
"Praise the Lord, all nations! Extol him, all peoples!" Ps 117:1
"And to [Jesus] was given dominion and glory and a kingdom, that all peoples, nations, and languages should serve him…" Dan 7:14
"And I, when I am lifted up from the earth, will draw all people to myself." – Jesus, John 12:32
"The times of ignorance God overlooked, but now he commands all people everywhere to repent…" Acts 17:30
"[Jesus] desires all people to be saved and to come to the knowledge of the truth." 1 Tim 2:4
"For the grace of god has appeared, bringing salvation for all people…" Titus 2:11
This isn't about merely drawing a crowd. Let's not be impressed with crowds, but with Christ. Our Father has put us here to be part of His unfolding, redemptive story in this city – and the cities of the world. Let's ask Him to do what only He can, starting with us, this season. This may be the only time many of our neighbors, family and friends will hear the gospel. Prayerfully ask Jesus who you should invite, step out in loving faith, and let's watch Him move this Easter. Together, let's pray for a packed house for the spread of Jesus' fame.