Mar 3
2011
New Series: A Reasoned Response
News | by Pastor Adam Sinnett

Roughly 2,000 years ago the city of Athens was a hub of commerce, philosophy, law and literature. It was a city of beauty, intellect and cultural savvy where people would "spend their time in nothing except telling or hearing something new." (Acts 17:21) It was in this creative, pluralistic and thoughtful context the Apostle Paul provided a reasoned response to the Athenians questions about Jesus Christ's person and work, today known as Christianity. (Acts 17:16,17)
Athens was much like Seattle is today, a hotbed for technology, religious pluralism, and intellectual pride; where the talk of the town ranges from the new iPad release to the starting line-up of the Sounders FC to the viaduct controversy. Amidst all this, there are also many thoughtful, practical and genuine questions about the claims of Christianity. But are there reasoned answers to those questions? Yes.
We invite you to join us this Sunday, March 6th @ 10am, as we unfold a reasoned response to the top four questions Seattlites have about Christianity. The responses may surprise you.
Sunday, March 6th | God: How can you know whether God exists?
Sunday, March 13th | Bible: Why should I read the Bible as revelation from God?
Sunday, March 20th | Suffering: How can a good God allow so much injustice?
Sunday, March 27th | Judgment: How can a loving God send people to Hell? Note: Venue Change
No pretension, no religiosity, no bait-and-switch. Just real people, exploring real issues, and worshiping a real God.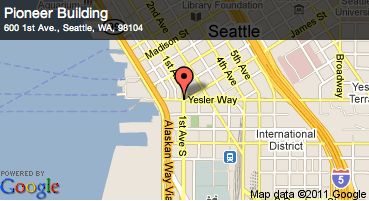 WHERE:
The Pioneer Building (next to underground tour)
600 1st Ave
Seattle, WA 98104
Exception: On Sunday, March 27th, we will gather at our new location, Court in the Square.
WHEN:
Every Sunday @ 10am, beginning March 6th through March 27th, 2011.
PARKING:
Parking downtown is free on Sundays, so there is no cost to park. However, do leave allow additional travel time to secure a parking spot on the street.
IS CHILDREN'S MINISTRY PROVIDED?
Yes, Cornerstone Kids will be provided for kids 6 months to 6 years old.
MORE INFO:
For more information on our Sunday Gatherings email: info (at) downtowncornerstone.org