Oct 31
2012
Self-Control
Media, Proverbs: Living Wisdom, Sermons | by Pastor Adam Sinnett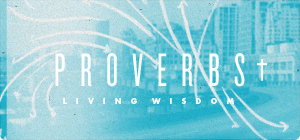 Podcast: Play in new window
SUMMARY
Proverbs makes it clear that wisdom is not merely the result of moral behavior, having the right information, living a certain number of years or having a particular amount of experience. All of those are good and helpful, but they aren't enough. Rather, Proverbs reveals that wise living is the result of becoming a certain type of person who is, then, able to make the right decisions in life – particularly where the normal rules of life don't apply. God is in the business of making new people. This week we see that he does that, in part, through growing us in self-control.
INTRODUCTION
The book of Proverbs is an ancient, yet intensely practical, book. It was written and compiled to aid God's people in developing the skill of living, particularly in the gray areas of life. Proverbs refers to this skill as wisdom. Importantly, Proverbs is not a book that tells us how to please God by our behavior. The Bible will have none of that. We are completely accepted, fully forgiven, and radically loved by God through faith in Jesus Christ alone. Yet, as we follow Jesus its inevitable that we'll need help. This book is part of God's solution for that; living wisdom for our daily lives.
What's particularly interesting is that Proverbs makes it clear that wisdom is not merely the result of moral behavior, having the right information, living a certain number of years or having a particular amount of experience. All of those are good and helpful, but they aren't enough. Rather, Proverbs reveals that wise living is the result of becoming a certain type of person who is, then, able to make the right decisions in life – particularly where the normal rules of life don't apply. As Americans, we don't like this: "Surely there must be a drive-thru for wisdom somewhere!" But, that's not how it works. God is in the business of making new people.
"Reckless self-indulgence and being owned by sinful passions simply are not intended for human beings. Such behavior has much more in common with a dog than it does with God's design for us. When we indulge ungodly passions it is as if we were sub-human, licking our own vomit or eating our own feces. These actions might be acceptable for dogs, but they are shameful and disgusting if done by humans. So it is when we are controlled by our ungodly desires. We were created for something much more noble than eating feces. We were created to have passions that are directed to the glory of God." – Ed Welch
Over the last several weeks we've been looking at various qualities (pride, words, emotions, etc) that we must have, per Proverbs, if we are to be wise people and how each of those is rooted in the fear of the Lord – which is the beginning of wisdom (1:7; 9:10). One of my goals for this series is that we become increasingly aware of how the truths of the gospel apply to all of life. By faith in Christ, we are forgiven our sin, saved from the just displeasure of God, and receive a new identity from him (e.g. adopted, justified, heirs with Christ, etc). Those truths are intended, by God, to work through our entire being to shape, inform, and transform who we are and how we live.
Today, we're going to look at a topic that receives very little specific attention, but is referred to throughout Proverbs as being incredibly important to nearly every area of our lives: self-control.
THE NEED FOR SELF-CONTROL
The Bible consistently warns us against excess, over-indulgence in every area of life. Why? It leads to destruction in various shapes, sizes and degrees.  Have you noticed how many sins result unchecked desires? 
"sexual immorality, impurity, enmity, strife, jealousy, fits of anger, dissensions, divisions, drunkenness" (Gal 5:19-21) If sin could talk it would say "I want" or "Lets have another"; self control says "Well, let's wait a second.." Proverbs speaks to self-control because those who can control their desires/emotions can see things clearly, therefore, make wise decisions.
ESV Pr 25:28 A man without self-control is like a city broken into and left without walls.

NASB Pr 25:28 Like a city that is broken into and without walls is a man who has no control over his spirit.
Here the Proverb is specifically referring to having control of our "spirit"? What is that? Spirit = Desires, emotions or affections. In other words, this proverb is saying, "Man w/out control of desires/emotions is like a city w/out walls"  What does that mean? In ancient times, a city w/out walls was a disaster waiting to happen. Walls provided protection, security, boundaries. In fact, the overall health and vitality of city tied to walls. Therefore, "to have no walls" is to be left exposed and vulnerable to our unchecked desires, emotions. Self-control serves as a wall, providing protection, security against danger that will inevitably come into our lives without it.
Without walls, a city is forced to deal w/ whatever is loudest/most urgent, but not necessarily most important. A city without walls is forced to continue fending off invaders instead of focusing its energies and resources on growth, development, commerce, and life of the city. The same is true for us.
Self Control is the ability to recognize and choose to live out of our most important desires over/instead of our loudest or most urgent desires. It involves the proper ordering of our desires. The point from this Proverb is that if we continue to give in to immediate, urgent desires, over time, we're going to make a mess of life – just like a city w/out walls.
Food & Alcohol:
23:19-21 Be not among drunkards or among gluttonous eaters of meat, for the drunkard and the glutton will come to poverty, and slumber will clothe them with rags.
Without self control, over time giving into our most urgent/loudest desire for comfort (via food and alcohol) destroys what's more important (job, health, relationships.)
Tongue:
29:20 Do you see a man who is hasty in his words? There is more hope for a fool than for him.
Without self control, over time giving into most urgent/loudest desire to say whatever happens to be on your mind at any point in time will destroy what's more important (friends, relationships, etc.)
Sexual sin:
5:22-23 The iniquities of the wicked ensnare him, and he is held fast in the cords of his sin. He dies for lack of discipline, and because of his great folly he is led astray.
Without self control, over time giving into most urgent desire for sexual sin will destroy what's more important (marriage, future marriage, conscience, etc). Ex. Solomon.
What can we learn about self-control from this metaphor?

#1 Self control is about living within boundaries.
Going right length and no further.

#2 Self control is about thinking before acting.
City walls would stall invaders, but not always guarantee success. Self control gives us time to consider consequences, remember Jesus, think of others, meditate on scriptures, be suspicious of ourselves, seek counsel of others, avoid acting rashly.

#3 Self control is about enjoying life.
Often, self-control is equated with emotional flatness. But, the truth is that walls around the city were intended to help it thrive, not shrivel up and die. Similarly, self-control enables us to live.
#4 Self control is about God-dependence not self-dependence.
City relies on walls; we rely on God.
THE SECRET OF SELF-CONTROL
Almost everyone would agree so far. There is a general understanding regarding the need for self-control, both for those who follow Jesus and those who do not. But, there is a massive difference when it comes to how we get it.
"Every athlete exercises self-control in all things. They do it to receive a perishable wreath, but we an imperishable. So I do not run aimlessly; I do not box as one beating the air. But I discipline my body and keep it under control, lest after preaching to others I myself should be disqualified." 1Cor9:25-27
An athlete goes into strict training. Similarly, Paul says, Christians should live disciplined lives that are consistent with their beliefs. That includes saying no, even when it hurts. So, what is the secret to that type/form of self-control? It was thought in ancient Greece and today in Seattle that the answer to self-control was will power – where we exercise our will over desires/feelings
What's interesting (and important!) to note is that the Bible never recommends shutting off our emotions to become self-controlled.
So, according to the Bible, what is the secret? Look again @ athletes. They want donuts? Skip workouts? Yes, but don't. Why? Answer: There is something they want more. They want the prize. Don't miss this. Their self-control was set on a higher joy that ordered their decisions. We don't "just" say no. We say no because we have trust in the superior power and pleasure of Jesus. Self-control ≠ merely matter of the will, fundamentally a matter of joy. Not will power, joy power. Setting the heart on a higher, better, more beautiful thing orders all the others desires in life.
For example, where did Jesus get self-control to handle cross? Will power? No. Joy power. Heb 12:2 "who for the joy that was set before him endured the cross, despising its shame…"
His heart was set on a prize. Dying for his bride the church (reconciling, forgiving, redeeming, new people) Self-control ≠ will power, but joy power; setting your heart on one thing that will order all other wants.
The higher want will always win. Whatever your heart is set on orders all of your other wants. The secret of self-control is not will-power, but joy-power. What is the highest want, joy of your life? But, how do we get it. Look at this Proverb:
16:32 Whoever is slow to anger is better than the mighty, 
          and he who rules his spirit than he who takes a city.
Mean? This is saying that it's easier to take a city that it is to be self-controlled. Then, how do we do it? Let's take a look.
THE PRACTICE OF SELF-CONTROL
18:10 The name of the Lord is a strong tower; the righteous man runs into it and is safe. 11 A rich man's wealth is his strong city,  and like a high wall in his imagination.
#1 Identify your imaginary wall.
What's going on here? Tower = security. Why running? Attack. People running to safety. This is telling us that every person runs to something for security – either God or something else. Everyone has a wall/tower look to and think, "If I have that, then my life will be secure and safe." What's the problem w/ that? Well, according to Pr 18:10 if that location of security is not ultimately God, it's imaginary – and it will not give the security you think it can.
Anything besides God you look to as ultimate security (high tower) creates addiction or self-control issues. A tradition addiction develops something like this: You go to to something to relieve pain > creates more pain > return to to numb pain > stuck. But, what is important to see is that can happen with anything: Money. Career. Shopping. Food. Clothes. Appearance. Reputation. Control. Personal Freedom. With anything, other than God, there is a tolerance effect: (1) Gives high, so go back. (2) Need more and more to get less and less (3) spiral down. That's exactly what is going to happen if you put anything in the place of God in your life. Anything that is your high tower, other than God, you will need more and more, but it will give less and less.
Often, at this point many recognize they need to change, so they change walls. We can't live w/out a strong tower.
It is thus, that the boy ceases, at length, to be the slave of his appetite, but it is because a manlier taste has now brought it into subordination – and that the youth ceases to idolize pleasure, but it is because the idol of wealth has become the stronger and gotten the ascendancy and that even the love of money ceases to have the mastery over the heart of many a thriving citizen, but it is because drawn into, the whirl of city [politics], another affection has been wrought into his moral system, and he is now lorded over by the love of power. There is not one of these transformations in which the heart is left without an object. Its desire for one particular object may be conquered; but as to its desire for having some one object or other, this is unconquerable.
Path to self-control begins with identifying your imaginary wall so that you can see the futility of making it your security. If you don't see this, then you won't be able to make any progress with self-control.
#2 Run into God's character.
In the Bible, your name (especially God's names) refer to what he is like, his character. To run into name of the Lord is to intentionally, emphatically  remind yourself who he is. Run! Intentionally remind yourself about his power, goodness, sovereignty, wisdom, holiness, love, mercy. If you want to have self-control, you have to know how to do that.
Ex. CS Lewis, Perelandra. Sci-Fi. Ransom. "Oh, they'll put all sorts of things into your head if you let them," said Ransom lightly. "The best plan is to take no notice and keep straight on. Don't try to answer them. They like drawing you into an interminable argument."
To grow in self-control you have to know how to take hold of "voices" inside intentionally and emphatically tell them truth about God.
#3 Run into God's grace.
Names refer not only to character, but actions of God. Jesus from Hebrew name "The Lord Saves"
Titus 2:11-12 For the grace of God has appeared, bringing salvation for all people, training us to renounce ungodliness and worldly passions, and to live self-controlled, upright, and godly lives in the present age…"
Grace: underserved love, kindness and forgiveness, in Jesus, when we deserve only judgment. Growth in seeing/savoring grace of God will lead to growth of your joy in God, and all that he is for us in Jesus.  As we grow to see and believe that God is for us, by grace, the power of wrong desires is weakened.
In other words, we wil grow in self-control as we grow in understanding of his grace towards you. You can trust him. He's safe.
#4 Run!
Who is doing the running here? We are. God doesn't run for us. Yes, joy-power. But we need plan. We often think that if change requires self-effort it is probably legalistic. Not true.
There will be times when you have to do the right thing, whether you feel like it or not. But, if you know who God is and what He is like, you will be convinced to run – no matter how you may feel at any given moment in time. A helpful indicator of whether you really want to grow in self-control or not: Do you have a clear, public plan? We're not talking about a resolution, BUT clear repentance, seeking counsel, bringing others in and creating a plan that is concrete and Christ-centered.
Ultimately, and in closing, self control is learned by contemplating a person – and contemplating that person, Jesus Christ, changes the kind of person we are. Jesus became a city without walls, that we might live within His walls of protection. Jesus bore the righteous attack we deserved for our sin, so that we could be graciously kept safe. The degree to which this gospel news is real to you = you will become self-controlled. Joy-power, not will-power. That's the secret of self control. Identify imaginary walls + fix eyes on him and what he's done + make a plan = self-control will com – and you will be on the path of becoming truly human, and He will get all the glory.