Mar 28
2013
Five Reasons to Join Us for Good Friday & Easter
City Life, Community, Easter, Good Friday | by Pastor Adam Sinnett

Though we celebrate Jesus' life, death and resurrection every Sunday, this weekend is unique. Good Friday and Easter have been set apart since the earliest days of the church to specifically remember, reflect and rejoice in the death and resurrection of Jesus Christ – and all these two events accomplished for those who embrace him by faith.
Jesus' death and resurrection are two sides of the same coin. Without his death, there's no resurrection. Without his resurrection, there is no salvation. They cannot be separated. Therefore, this weekend we remember two great events with one great purpose: God reconciling sinners to himself. I invite you to join us and encourage you to invite others to do the same.
Five reasons to join us – and invite others
#1 Jesus.
You and/or your friends may know nothing about Jesus. If you're an average Seattleite you likely know very little about who Jesus is, let alone why there's so much hoop-la surrounding his death and resurrection. Given the importance of this towering figure, it is only wise to learn more. That's what this weekend is all about. (Lk 23:33)
#2 We forget.
Even those who are followers of Jesus, forget. We forget how radical of a salvation God has accomplished for us in Jesus. We forget how deep our sin really is. We forget how great God's grace really is. We forget that our condition is so bad God had to die for us, yet we are so loved he was glad to. We forget and need to be reminded. "I think it right, as long as I am in this body, to stir you up by way of reminder…" (1Pe 1:13) That's what this weekend is all about.
#3 Slow down.
Life is busy and it can hard to slow down and truly think about life, death, sin, meaning, purpose, faith and more. We get so caught up in moving from one activity to the next that we rarely get to step back and reflect. What am I living for? Why am I here? Am I living my life in line with the gospel? Do I truly have an interest in Jesus? That's what this weekend is all about.
#4 Relevance.
Even though the events we remember and celebrate this weekend occurred roughly 2,000 years ago in a small, rural outpost of the Roman Empire, they remain incredibly relevant. Jesus is relevant. In a world of one-hit-wonders, seasonal fads and passing celebrity, what we need is real, grounded, truth. That's what this weekend is about.
#5 He is Risen!
Jesus' resurrection proves He is the Son of God (Rom 1:4). By his resurrection sinners are converted (Acts 3:26), sin is forgiven (Acts 5:30-31), the Spirit is sent (Acts 2:33), people are healed (Acts 3:15-16), the penalty and power of sin is destroyed (Acts 13:37-39), we are assured the gospel is true (Acts 17:31) and our future resurrection is guaranteed (Acts 17:31). That's what this weekend is about. He is risen!
Join Us for Good Friday & Easter Good Friday
Friday, March 29th @ 6:30PM
AMC Pacific Place 11, 600 Pine St, Seattle, WA 98101
"And when they were come to the place that is called The Skull, they crucified him…" (Lk 23:33)
On Good Friday we'll gather to reflect on the night Jesus Christ was betrayed, unlawfully tried, crucified and buried, in our place, for the forgiveness of sin. Cornerstone Kids and parking validation will be provided.
Easter Morning
Sunday, March 31st @ 10:00AM
AMC Pacific Place 11, 600 Pine St, Seattle, WA 98101
"Why do you seek the living among the dead? He is not here, but has risen." (Lk 23:33)
Then, on Easter Sunday, we'll celebrate Jesus' defeat of Satan, sin and death through vibrant worship, baptism, and practical teaching in the heart of the city! Cornerstone Kids will be provided.
Parking
We will offer validated parking on Good Friday. For those that are able, please try to secure street parking first. Parking is free after 6pm east of 6th Ave. and north of Stewart St. – just a few blocks from our meeting space. On Easter Sunday downtown parking is free. Please allow time to secure street parking. We offer 3 hour validation to the Pacific Place Parking garage for families and folks with special needs.
Children
Cornerstone Kids is provided for kids 1 to 6 years old.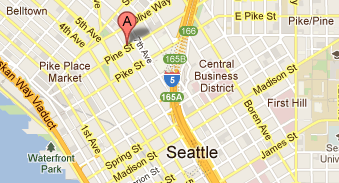 For more information on our Sunday Gatherings please email info@downtowncornerstone.org.