Aug 21
2017
Beach, Burgers, and Baptisms this Thursday @ Myrtle Edwards!
Baptism, City Life, Event | by Pastor Adam Sinnett
"Behold, how good and pleasant it is when brothers [and sisters] dwell in unity!"
– Psalm 133:1
DCC family,
This Thursday, August 24th, we are gathering together at the beautiful Myrtle Edwards Park from 6:00-8:30pm for our annual summer barbecue and baptisms. We hope you can join us! Meat will be on the grill. The Olympics will be out. Music will be playing. Lord willing, the weather will hold. There will be activities for kids. You'll make new friends. There will be a brief gospel message and we'll be celebrating three baptisms! It's going to be a great evening spent reveling in the beauty of our city, God's glorious creation, and the reality of Jesus who continues to change lives. I don't like hype, but you really don't want to miss it. Come early. Adjust your work schedule. Carpool with others. If you don't know anyone, this is a great opportunity to change that. Do what you can to join us for this special time. Since we gather across two gatherings on Sunday, we don't have many opportunities to be together at the same time—this is one of them. We currently have 150 RSVP'ed. We'd love to see that doubled. We hope you can make it. If you have any questions, just let us know. See you Thursday evening!
WHEN.
Thursday, August 24, 6:00pm-8:30pm
WHERE.
Myrtle Edwards Park, 3130 Alaskan Way. We'll gather in the field nearest to the beach (map below). Street parking is pay until 8 pm at $1.50/hr available along Western Ave, Elliott Ave, and Alaskan Way.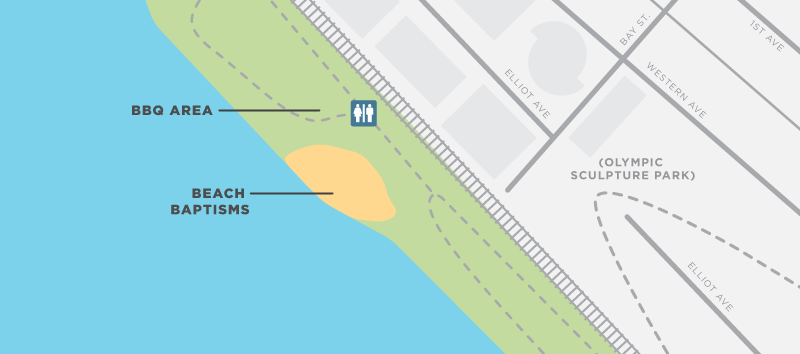 FOOD.
DCC will provide hot dogs and burgers, condiments, buns, chips, beverages, and paper products. If you're planning on joining, please sign up for a side dish, burger topping, or dessert below.
You can RSVP, sign-up to bring a dish to share, and volunteer to serve here (we still need help!).
Christ is all, 
Pastor Adam
P.S. Be praying for those who will be sharing their testimonies and getting baptized. Specifically, ask Jesus to use their stories to draw others to a saving relationship with him.