Feb 21
2018
Meet Our Newest Elder Candidate: Luke Davis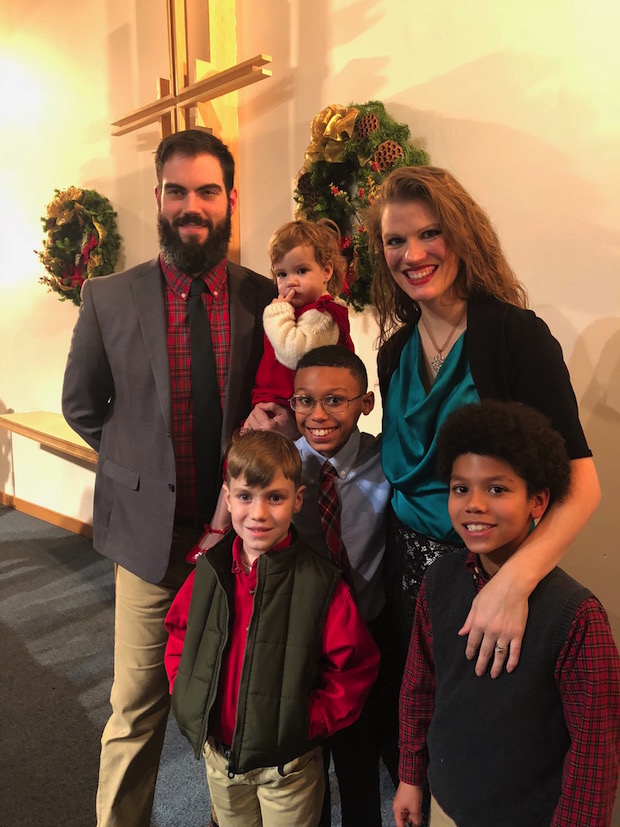 Downtown Cornerstone,
Last Sunday we presented Luke Davis to the church as a pastoral candidate. We are taking the next four weeks to give you time to meet with him, ask questions and/or express any concerns you may have. One of the over-arching qualifications for a pastor is that he must be "above reproach" (1Tim 3:1). This waiting period is our attempt to ensure all bases are covered and you have an opportunity to speak into the process.
The office of pastor (or elder) was created by God, for the leading, feeding, and protecting of his flock, the local church. Therefore, we treat the equipping and installation of such men with great seriousness – and joy!
Luke will not be on DCC's pastoral staff (i.e. vocational pastor), but will serve as an elder in a volunteer capacity (i.e. lay pastor). Therefore, by necessity, the scope of his pastoral involvement will be limited when compared to a staff pastor. However, his service will be equally significant. As a non-staff pastor Luke will be involved with preaching, counseling, membership interviews, officiating weddings and funerals, elder meetings and practical leadership (which currently includes leading a Cornerstone Community). Our hope is to have many non-staff pastors in the future, as it helps diversify and strengthen the elder team and, therefore, the church.
Luke is a good man with integrity, love for Jesus, and for Jesus' church. As elders we believe he is called, qualified, and ready to be installed as a pastor of Downtown Cornerstone. However, we are taking this time in case you know something that we do not.
That said, would you pray for the Davis' in this season? Would you also pray for our church? It is a sign of God's grace to us that we have men, like Luke, being raised-up to lead, feed and protect Jesus' flock. Let's ask Him for more.
Provided nothing arises that would cause us to stop the process, which we don't foresee, we will install Luke as our fifth pastor, and first non-vocational pastor, on Sunday, March 18th. It will be a great celebration and a joyous moment.
What follows (below) is a short interview with Luke so that you can get to know him a bit better.
If you have any questions, comments or concerns you can email me directly at .
Christ is all,
Pastor Adam
On behalf of the elders of DCC
-———————————————————————————
Q: How did you meet Jesus? How has he changed you?
LD: God was often on the perimeter of my mind making forays to the forefront around visits to church on Christmas and Easter. The rhythm of my relationship with Him drastically changed when dad decided our family needed to become faithful members of a local church. The timing coincided with my entrance into high school. As the message of the Gospel became clearer my heart put up a fight. I didn't want to accept that I was busted without Jesus. But the Spirit patiently melted away my crazed attempt to grasp at some measure of merit and Christ became a living hope.
I guess just about every area of my life has been affected since following Jesus half a lifetime ago. We would not be in Seattle, for instance, were it not for submitting my vocation to His will. Jesus has been the closest of friends, fulfilling promise after promise. My marriage, family, and work have all been profoundly shaped by Him.
Q: Tell us a little about your family.
LD: My beautiful bride, Lynn, and I have been married for almost a decade (wish us a happy anniversary on March 8th!). Within those years we have welcomed William (10), Ezra (8), Rowan (6), and Haven (1.75). Our little girl is the lone Seattleite in the bunch. The rest of us hale from Florida.
Q: What are you most passionate about?
LD: I am deeply committed to seeing wisdom and virtue cultivated in the hearts of children. Paul admonishes all parents to bring up their kids in the discipline and instruction of the Lord; to lead them in the way of Jesus. It is a joy of mine to partner with parents as they pass on what it means to be human.
Q: How did you get involved with DCC?
LD: It was paramount for Lynn and I to identify a few churches where we could worship in good conscience while considering a move to Seattle. DCC, along with some other churches, appealed to us because of its theology and location. When attempting to line up some personal connections during a first visit to the city, David Parker's warm communication and generous invitation drew us in like a beacon. Our very first impression of DCC was full of good conversation, camaraderie, Gospel care, and hospitality. The connection was set at that first meeting and we have been celebrating our local church ever since.
Q: What are your current areas of oversight?
LD: Within DCC I oversee the Belltown West Community.
Q: How did you determine you were called to be a pastor?
LD: I have desired to serve the church in this capacity for 16 years. At the simplest level I originally recall a pull to the pastorate when initially reading through 1 Timothy 3 as a young Christian. But discerning the pastoral call should never be done in isolation. The desire grew in clarity, understanding, and affirmation through wise counsel, prayer, and mentoring. My prayer is that our Lord may use me to help lead, feed, guide, and protect the flock.
Q: How can we be praying for you and your family in this season?
LD: Lord willing, I will be the first lay elder in DCC's history. That distinction is attended by humbling honor and trepidation. Our pastors expend themselves, body and soul, for the welfare of the church. I need wisdom to walk out this call well in the midst of being a husband, father, headmaster, and citizen of Seattle. Please ask our Father for the grace to serve DCC well without betraying the other responsibilities in my life.
Additionally, my family has called Belltown home during the duration of our time in Seattle. As I write this I am surrounded by bins. We are moving just a couple miles east to the Central District within the next week. Leaving Belltown is going to hurt. But we are celebrating our transition to the CD. Please pray for quick connection with neighbors and vision for flourishing within a neighborhood full of historical hurt and triumph.
Thanks, Luke!