Apr 14
2011
Join us on Good Friday and Easter
News | by Pastor Adam Sinnett

Good Friday, April 22nd @ 7:00pm
Join us on Good Friday, April 22nd @ 7pm, for a simple, somber, and contemplative service remembering the night Jesus Christ was betrayed, crucified and buried. We'll reflect on the account of that history-changing evening through story, song and prayer. This gathering is highly recommended as a significant preparatory work for your heart prior to Easter. Cornerstone Kids
will be provided.
Easter, April 24th @ 10:00am
Following our Good Friday gathering, be sure to join us on Easter morning, April 24th @ 10am, as we celebrate the resurrection of Jesus Christ. Whether you're a friend, a family member, a visiting tourist or a curious local, we invite you to celebrate Jesus' defeat of Satan, sin and death with us. It's going to be great Easter morning of vibrant worship and practical teaching in the heart of the city.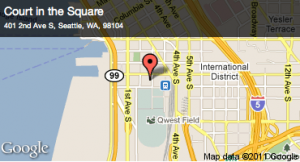 WHERE:
Court in the Square
401 2nd Ave S
Seattle, WA 98104
WHEN:
Good Friday @ 7pm
Easter Sunday @ 10am
PARKING:
Parking downtown is free on Sundays, so there is no cost to park. However, do leave additional travel time to secure a parking spot on the street.
WILL CHILDREN'S MINISTRY BE PROVIDED?
Yes, Cornerstone Kids will be provided for kids 6 months to 6 years old.
MORE INFO:
For more information on our Sunday Gatherings email: info (at) downtowncornerstone.org