Jan 13
2015
Foster Care Drive: Loving the Least of These
Advent Drive, City Life, Foster Care, Service | by Anne Johnson

"I will not leave you as orphans; I will come to you." – Jesus (John 14:18)
As foster parents licensed through the state, my husband and I see firsthand what it is like for children to come "into the system." Our current foster son came to us with nothing but a worn coat and the clothes he was wearing. In the midst of uncertainty in a new and strange place, the gift of comfortable clothes is undeniably reassuring.
Throughout the Foster Care Drive, I watched in grateful amazement as our living room filled with messy piles of socks, bags of sweatshirts, and boxes of sweatpants. I am astonished by God's grace and provision through the Downtown Cornerstone community. Through the freedom to love as we have been loved, we collected over 780 articles of clothing! You can see the generosity of that collection evidenced below in photos of my car stuffed with your donations.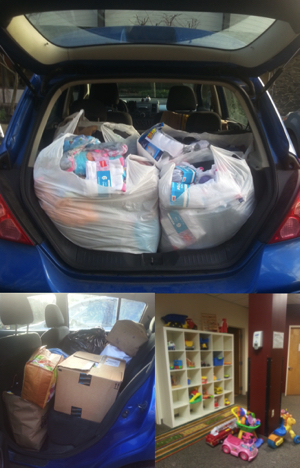 The bottom-right photo above is the play area at the West Seattle Visitation Center where the clothes will be distributed. When children come into care after hours, they are often brought here and given overnight bags with essentials, if any are available. Lisa, the DSHS social worker who runs the visitation center, was incredibly grateful to stock the center with our much-needed supplies.
GET INVOLVED
If you are looking for more ways to help, Lisa shared that a dream of hers is to have a supply of duffel bags. If children are lucky enough to bring their things from home, they usually carry their items around in trash bags. Just as some fresh socks can bring comfort, having a proper bag for your possessions (however few) can bring a sense of worth and value.
The Visitation Center is also in desperate need of a refresh. There is currently a project through Amara, an adoption support agency, to update the Center. For more information, visit Amara's GoFundMe page.
If you are interested in learning more about foster and adoptive care in the State of Washington, or want to get involved through donating or volunteering, please feel free to contact me. I love sharing about these wonderful kiddos! Thank you on behalf  all of the kids who will sleep, run, and thrive in the clothing you've donated.
Sing to God, sing praises to his name…Father of the fatherless and protector of widows is God in his holy habitation. God settles the solitary in a home; he leads out the prisoners to prosperity…"
– Psalm 68:4-6
Christ is all,
Anne Johnson
You can get connected to Anne to learn more about foster and adoptive care in the State of Washington by emailing info@downtowncornerstone.org.