Aug 3
2017
Video and Photos from Serve the City
City Life, Event, Serve the City, Service, Video | by Micah Rickard
"And this is eternal life, that they know you the only true God, and Jesus Christ whom you have sent." – John 17:3
Jesus begins his prayer for his disciples and all believers, recorded in John 17, with this brief and beautiful statement on what it means to be in Christ. Later in this prayer, Jesus prays, "The glory that you have given me I have given to them, that they may be one even as we are one, I in them and you in me, that they may become perfectly one, so that the world may know that you sent me and loved them even as you loved me" (v. 22-23). The reality that we are in Christ brings a transformational unity with each other, and God uses this unity to display his glory to the world, that others may know him and have eternal life. Paul highlights this when he refers to believers as "ambassadors for Christ" (2 Corinthians 5:20).
It is out of these deep truths that we are committed to building a great city, not just a great church. It's why our desire as a church is to see gospel renewal take place from the avenues to the alleyways. We have been infinitely served and loved by Christ, and out of the joy and gratitude that brings, we get to serve together as God's people to display his glory in our city!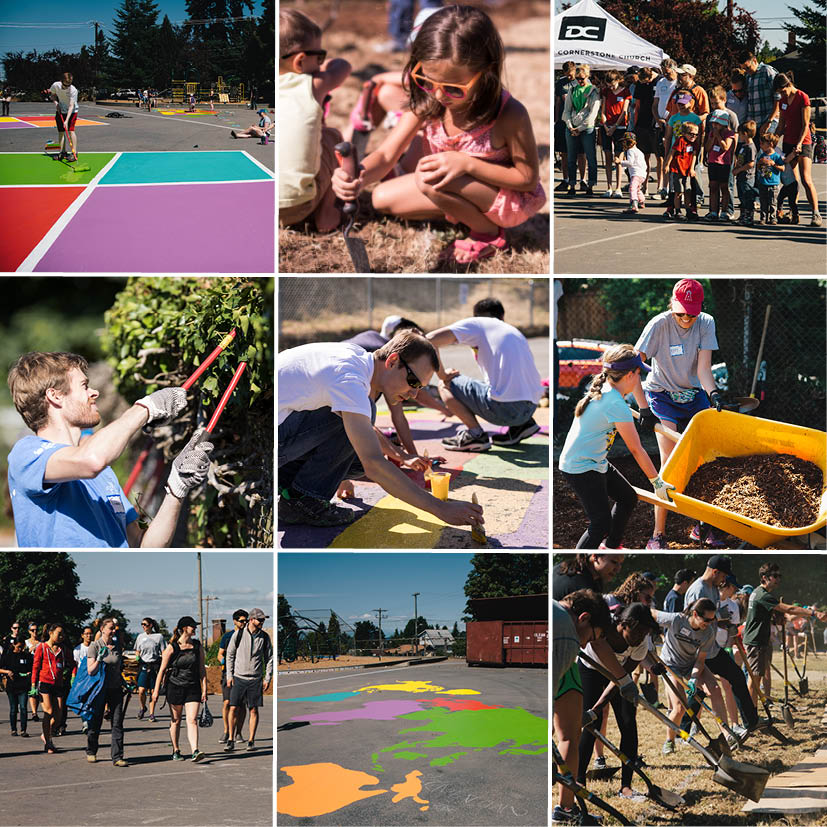 Last month, on July 15th, Downtown Cornerstone had the opportunity to partner with Gatewood Elementary School in West Seattle to help out with a variety of grounds work projects, including repainting US and World maps, repainting foursquare and tetherball courts, turning up ground and laying down mulch to outline a new track, removing massive amounts of ivy from fences, weeding along edges and fence lines, and more!
One woman and her family walked past the school, witnessed our efforts, and were moved to tears to see us "carrying out Jesus' mission to serve others." She mailed a thank you note sharing her appreciation saying, "Thank you from the bottom of our hearts for living the true Spirit of love and community. I will never forget your collective and individual kindness." Her son will attend kindergarten at Gatewood Elementary this fall!
It's stories like this that remind us we really are the hands and feet of Christ, sharing the love He's given us with those in our community. With over 200 volunteers (plus kids!) serving a total of 800+ hours we accomplished an incredible amount of service and support for the students and staff at Gatewood! If the Department of Neighborhood approves the grant Gatewood's Parent-Teacher Association submitted, they'll receive an equal amount of paid hours toward additional improvements. What an incredible gift!
Thank you to all who came out to help!
– Deacon Micah Rickard