Oct 13
2016
Meet Your Next Pastor: Craig Sturm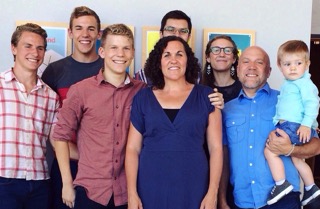 Downtown Cornerstone,
Last Sunday we presented Craig Sturm to the church as a pastoral candidate. We are taking the next four weeks to give you time to meet with him, ask questions and/or express any concerns you may have. One of the over-arching qualifications for a pastor is that he must be "above reproach" (1Tim 3:1). This waiting period is our attempt to ensure all bases are covered and you have an opportunity to speak into the process.
The office of pastor (or elder) was created by God, for the leading, feeding, and protecting of his flock, the local church. Therefore, we treat the equipping and installation of such men with great seriousness – and joy!
Craig is a good man with integrity, love for Jesus, a passion for the spread of the gospel, and invaluable pastoral experience forged in the fire of the local church over the last 26 years. Personally, I have known Craig for over eight years and am profoundly thankful for he and his family. As elders we believe he is called, qualified, and ready to be installed as a pastor of Downtown Cornerstone. However, we are taking this time in case you know something that we do not.
That said, would you pray for the Sturm's in this season? Would you also pray for our church? It is a sign of God's grace to us that we have men, like Craig, being raised-up to lead, feed and protect Jesus' flock. Let's ask Him for more. Provided nothing arises that would cause us to stop the process, which we don't foresee, we will install Craig as a pastor on Sunday, November 6th. It will be a great celebration and a joyous moment.
What follows (below) is a short interview with Craig so that you can get to know him a bit better.
If you have any questions, comments or concerns you can email me at adam@downtowncornerstone.org.
Christ is all,
Pastor Adam
On behalf of the elders of DCC
=========
Q: How did you meet Jesus? How has he changed you?
CS: I grew up knowing about God, but never really knowing God. God was a nice concept, but certainly not real and certainly had no impact on daily life. At 16, God brought crisis into my life that this perspective could not address. As I wrestled with this, God was gracious to bring alongside me friends who patiently, graciously pointed me to the living, hope-giving Jesus. On Wednesday, June 13, 1981, the Spirit of God gloriously regenerated my heart — taking out my heart of stone (unbelief) and replacing it with a heart of flesh (belief), causing me to be born again to a new and living hope. On that night I joyfully yielded my life to my loving Savior, receiving his rescue from sin, freedom from wrath, and adoption as a beloved son. Through the gracious work of his Spirit in my life over the years, God has been transforming me to be more and more like Jesus!
Q: Tell us a little about your family.
CS: I am a man blessed beyond measure! God was so kind to bring the treasure of Kathy into my life nearly 27 years ago. Marriage has been a profound journey of joy and sanctification. God has blessed us with six children: Brian (26), Kelsey (24), Caleb (who died at one month), Phillip (21), Jonathan (19), and Luke (17) — and now one grandchild, Nathan (2), with another on the way! I have loved the gift of being a husband, father, and now grandfather.
Q: What are you most passionate about?
CS: There are a few lesser passions in my life, but I am most passionate to see God's children come to know of his love, mercy, and grace in the Gospel, embrace it with their whole hearts, treasure Jesus above all else, and live out their faith alongside their brothers and sisters in Christ in the local church.
Q: How did you get involved with DCC?
CS: We have a friendship with the Sinnetts, Parkers, and Andersons that goes back to 2008. We watched as the vision for DCC began to grow and stayed connected even after we moved to Chicago. While there, Pastor Adam served as a pastoral advisor for a church I helped plant. It was during a conversation with him a little over a year ago that I shared I would be transitioning from that lead role, and subsequently, he and I began to talk of possible ministry for us with DCC. God's sovereign hand was weaving our paths back together! We formally began ministry with DCC on February 1, 2016.
Q: What are your current areas of oversight?
CS: Currently, my main area of oversight is our Cornerstone Communities — mentoring the leads, shepherding towards healthy communities, preparing new leaders for new communities, etc. I absolutely love it! The second major area of oversight for me is our Mercy Ministries — working with our current mercy partners, dreaming about future partnerships and initiatives, and helping our communities develop their own mercy ministries. In addition, as a "generalist", I serve alongside the pastors to help with preaching, teaching, and providing counsel and care when needed.
Q: How did you determine you were called to be a pastor?
CS: I was discipled well as a young Christian. A year into that journey, after having had chances to lead some friends to Christ, serve in up front leadership roles in the youth ministry I was involved with, and being spurred by the man discipling me, I left for university fairly confident that full time ministry would be in my future. God used those years and then my time in seminary to refine that ministry call particularly to pastoral ministry in the local church.
Q: How can we be praying for you and your family in this season?
CS: Kathy and I are humbled by God's amazing kindness to us and the beauty of the church family at DCC. We take the call to the pastoral role very seriously. We would be blessed to have you praying for continued "humble confidence" that is rooted in God's strengthening and provision for the call — that we would serve in the strength that he supplies, not according to human wisdom or cleverness. Pray that our joy would be in Jesus and therefore sure and immovable. Pray that our love for you all would continue to abound as he continues to knit our hearts together for the sake of the gospel and your joy in Jesus!
Thanks, Craig!